SINGLE WALL pellet stoves
Painted silicone black T500 °C
The MP series is completed with a line, in diameters 80 and 100 mm, specially designed for the exhaust gases from pellet stoves.
The continuous comparison between customers and the company has suggested and allowed the creation of a product that is particularly versatile and suitable for its application; in first quality stainless steel AISI 316 L BA thickness 0.5 mm with gasket, and painting resistant up to 550 ° C.
NB: for traditional wood-burning stoves, a series made of 2 mm thick steel sheet painted black is available.

How to read it:
METAL CHIMNEY SYSTEM: exhaust gases evacuation system consisting of one or more walls composed of elements of the same series
Operating temperature T200 (tests performed at reference Temp + 50 ° C)
Pressure Class, P1 positive pressure 200 Pa
Operating Condition with Wet condensation
Vm, L—– corrosion in relation to the material declared on delivery with a certificate from the steel mill of origin
Soot Fire Resistance(Thermal Shock 1000 ° C-30 min., G = YES; O = NO, due to the presence of the gasket)
(—) distance in mm from combustible materials to be respected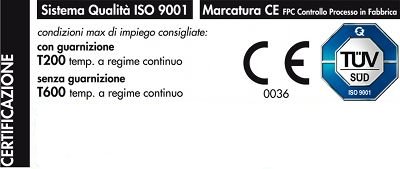 Butt-to-head automatic microplasma WELDING without the addition of material with an anticorrosive process in a closed atmosphere protected by inert gas
JOINTING with socket with gasket
First quality grade stainless steel AISI 316 L BA (glossy finish) 0.5 mm
H12 heat resistant silicone gasket included
High resistance 550 ° C silicone paint for D80 and D100
TEMPERATURE NOTE: It is advisable to conveniently shield the ducts that can be exposed to human contact; consult the DP ISOAIR product.
Contact us
For technical details contact us